The Andon Adsun Production Management System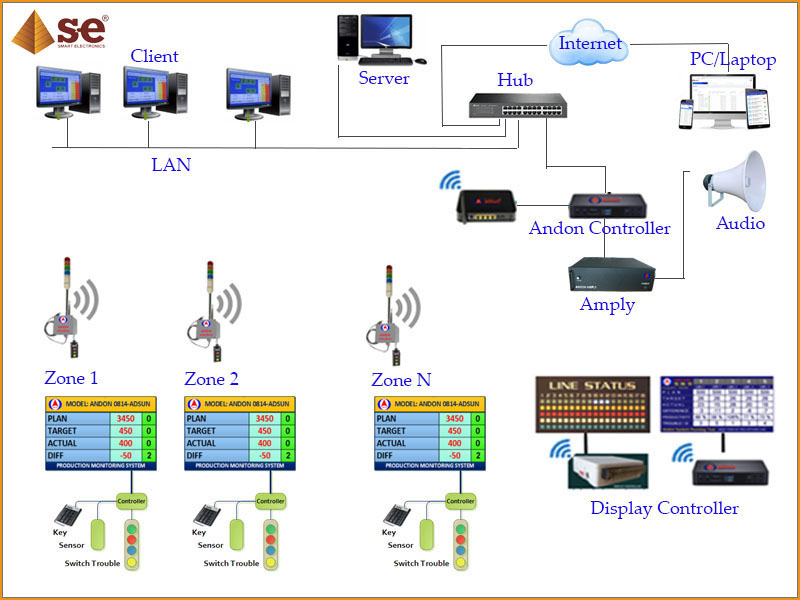 In order to meet the increasing demand in the Southeast Asian, mainly in manufacturing factories and industrial parks.
Anh Duong Electronics and Telecommunications Joint Stock Company (ADSUN JSC) would like to introduce one of product of the Andon Adsun production management system with multi functions researched and distributed by our company.

This system is designed to control the details of incidents at each critical stage in the production process.
The system helps managers control production processes and troubleshooting better and faster with the highest reliability.
MODEL OVERVIEW OF ADON ADSUN WIRELESS SYSTEM (Adon Adsun Wireless System)
The ANDON ADSUN production management system is defined as a system that helps support production management to achieve the best performance in the production management of the enterprise. With the following functions:
Reporting immediate incidents by a system of signs and sounds.
Notifying of requirements for material supply (material code, color) towards each shift.
Workers can use "1-touch" quick-call for: maintenance, line management, other emergency incidents…
Warning of parameters of operating device: overheating, emergency stop…
Monitoring real-time working of machinery, time of machine breakdown due to damage, maintenance time, frequency of broken machines, management of machine and equipment records on convenient software (using Mobile App and QR Code for device management).
Reporting productivity: product targeted by quarter / week / day and actual output achieved compared to planned target.
Keeping track on all activities through Website & Mobile App, software decentralized towards functions and tasks of each department.
Applying RF wireless technology (cost saving, convenient and system installation time is better more than 30%).
Especially the scalability of the system: Because we directly research and produce, the system has the ability to expand features towards the specific management requirements of each factory, with fast and effective response time
Pre-designed data connection ports used to sending / receiving data with the ERP software system of factories.
The ability to connect and expand the centralized management system for factories (data management of the company).